Nestling under Tower Hill about six miles north of Burnley, the village of Blacko hasn't changed much in the last fifty years. As one of the undisputed champions of 'Lancashire's Best Kept Village', and home of the much-loved Jimmy Clitheroe, there are lots of reasons to recommend this appealing village. To be honest, there's something to be said for keeping things traditional and that's why here at Spitting Pig's Hog Roast Blacko, we've perfected the art of the traditional hog roast.
It's the ideal solution for all sorts of catering conundrums and, whether you're looking for a simple pork roll for 1,000 partygoers or you're looking for something more formal, we've got the skills, the expertise, and the experience to cook up a first class meal fit for royalty. What's more, we're used to catering for all kinds of events, whether they're private, corporate, large or small.
The Best Hog Roasts in Blacko
Think of it now. Imagine our team of chefs and waiting staff arriving at your venue in Blacko, complete with our specialist hog roasting machine, and a top quality locally sourced hog. It's bound to be the talking point of the village, and all the villages around. Whether you want to add a little panache to your school fete, your wedding, a BIG birthday bash or you're planning an outdoor events day in the wonderful surrounding countryside for your business, we can provide the catering.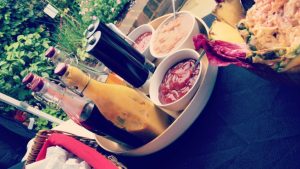 Our hog roasts are renowned throughout the area, but we also offer a whole range of other foods to delight the palette. From crisp salads, party platters, finger foods and desserts to a whole range of main courses, including vegetarian options and, should you want to get your party off to a rip-roaring start, we'll even rustle up some eye-catching canapés. All our food is prepared and cooked on site, so you can be sure that you're getting the freshest dishes possible.
So if you're planning to throw a party in Blacko or one of the surrounding villages, or indeed anywhere in this part of Lancashire, why not give us a call here at Hog Roast Blacko? We'll give you the benefit of our considerable advice and help you to plan a menu to suit your needs. Our menus are suitable for all kinds of occasions, can be tailored to fit all budgets, and they include everything from spit roast chefs and waiting staff through to plates and cutlery. Spitting Pig is renowned for the quality of our hog roasts and our customer service. What more could you want?