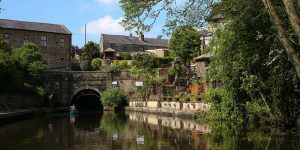 There's an old tale about the village of Foulridge that involves a cow. Apparently a cow fell into the Leeds and Liverpool Canal and travelled through the Foulridge Tunnel before being rescued by the villagers and taken to the local pub to be revived with a drink. No doubt there was a bit of a party mood going on in Foulridge after the rescue, and we suspect that the rescuers might have celebrated with a drink or two themselves. However, we're sure that there's far more things to celebrate in Foulridge than the rescue of a cow, such as weddings, birthdays, anniversaries and well, just the joy of being alive in such a lovely area. So the next time you're planning a celebration, and you're looking for caterers in Foulridge, why not give the team here at Spitting Pig's Hog Roast Foulridge a call?
The Best Hog Roasts in Foulridge
We're known as one of the best hog roasting companies in Lancashire, and we've got a reputation for cooking up some of the tastiest and juiciest hog roasts in the Pendle area. Whether you're trying to organise a surprise party for one of your nearest and dearest or you'd like something a little different to celebrate your marriage, we've got the perfect solution. Our spectacular hog roasts will provide not just a show-stopping focal point for your party feast, but they'll provide some of the most delicious roast meats in the North. When you book Hog Roast Foulridge, you'll not only be getting top quality food, but you're getting the years of experience of our professional chefs and waiting staff, who want nothing more than to create the best food and eating experience for you and your guests. They know the secrets of cooking perfect hog roasts, plus t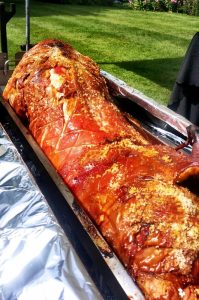 hey know how to serve it up to its best advantage, whether that's by letting the meat do the talking in a simple bun, or by incorporating it into a more lavish buffet style meal.
So, if you're looking for something a little different for your next celebration, why not give us a call here at Hog Roast Foulridge? We offer all kinds of tasty treats and menus to suit everyone, including vegetarians. Choose from finger foods, party platters, canapés, salads, fish dishes, Thai, Indian and Mediterranean foods – in fact, we're sure that you can't fail to be impressed by our choice of dishes. Give us a call now, and let us help you to plan your celebratory feast.