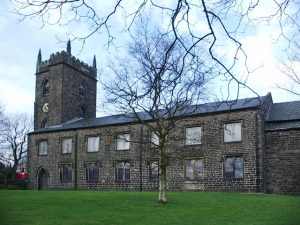 Located in the Pendle area, Newchurch is famous for its family of witches who lived in the village in the 17th century. Its church is also supposed to be the final resting place of Alice Nutter, one of the most famous Pendle witches, although many think that this is just a myth. However, while myths of witches might abound in Newchurch and the Pendle area, the quality of Spitting Pig's hog roasts are definitely not a fairy story, but are very much a reality. In fact, we'd go as far as to say that Hog Roast Newchurch serve up the tastiest hog roast in the whole of Lancashire, and that they're the perfect solution if you're looking for a delicious culinary centrepiece for your next party. Whether you've got a wedding or birthday celebration coming up, or you've got a corporate event to pull off, we can take care of all the catering, and what's more, we'll do it with ease.
The Best Hog Roasts in Newchurch
Our hog roasts are the ideal solution for all kinds of events and parties. From a simple and inexpensive hot pork roll to a full sit-down buffet, our skilled team can put together a party menu to suit all tastes and all budgets. We even cater for vegetarians too, although we're sure that they will be in the minority especially when most people choose our catering company based on the quality and the mouth wateringly good taste of our locally sourced hogs. Take a look at our range of menus and see for yourself what's on offer. You can see that we really do cater for a variety of tastes, whether you prefer Indian flavours, a touch of the Mediterranean, or good old-fashioned traditional English food. Of course, we also offer a range of tempting tasters, canapés, starters and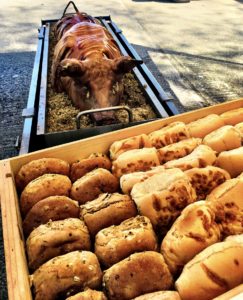 desserts, to ensure that you give your guests a fully rounded meal, and our friendly waiting staff will be on hand to ensure that everyone gets their food served up promptly.
So if you'd like to be the host or hostess with the mostest, why not call in the professional caterers in Newchurch who will always go that extra mile to ensure that you get the very best of everything? The very best locally sourced ingredients, the very best dishes cooked to perfection, and the very best service. Call Hog Roast Newchurch now to discuss your requirements.