A former cotton mill town in the Ribble Valley, Twiston lies in the Forest of Bowland area of outstanding natural beauty. Close to the village of Downham, it's one of those place that attracts people looking for a taste of country life, without straying too far from the towns and cities. Here at Hog Roast Twiston, we want to give you a taste of traditional country life by serving up some of the tastiest traditional celebratory food in the shape of a spit-roasted hog. Juicy and succulent, they're the perfect centrepiece for any party or event, and are sure to take you back to the days when villages gathered together to celebrate by sharing a delicious meal.
The Best Hog Roasts in Twiston
Hog Roast Twiston are experts in turning out perfectly roasted hogs. Over the years we've perfected the art of finding the best locally sourced hogs, and through our time honoured technique of spit roasting the meat for a minimum of six hours, we've found the way to ensure that each and every hog is soft, juicy and tender on the inside and crisp and crunchy on the outside.
However, while we're sure that most of you will love to have a spit roast as the mainstay of your menu, be assured that our professional chefs also have the ability to cook up, well just about anything! Take a look at our menus and you'll see what we mean. You'll find everything from finger foods, canapés and party platters to formal sit-down menus, buffets, salads, desserts and more. In fact, we can cater for any get-together, no matter how many you plan to invite, and whether it's a private party or corporate event.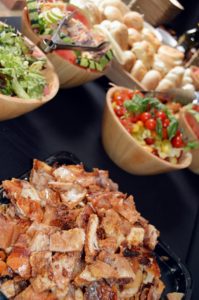 Remember, when you book our Twiston hog roasting company, you'll not only get some of the best catering in the area, but you'll also benefit from superior service too. We source the majority of our ingredients locally, so you can be sure that you're getting the freshest possible produce. We prepare and cook everything at your venue, and our friendly serving and waiting staff make sure that it's served up to both you and your guests' satisfaction. Whether you fancy just a simple hog roll, or you're looking to go the whole hog with a full sit-down buffet affair, get in touch with us now to find out more. Hog Roast Twiston offer a fantastic range of outside catering options, and we'd love to discuss how we can help you to put on a party your guests will always remember.